That's riiiiight! ECM's freebie library is GROWING!
If you haven't heard, our newest freebie is 12 Canva Templates for Coaches and Consultant – But, really anyone with a service-based business can use these!
Not only will these templates SAVE YOU A TON OF TIME AND BRAIN POWER, they'll also help you:
Elevate your brand's online presence and help you stand out from the competition. You already know you're better than your competitors. Now is the time to really shine online and let your prospective customers know exactly WHO you are.
Cultivate a professional and cohesive look for your social media feed. No more weird-looking feed with designs that don't match your overall brand or colors.
Effectively communicate your messaging and services to your audience. Because, we all want those conversions, yeh?
Be sure to grab these Free Canva Templates today, click below!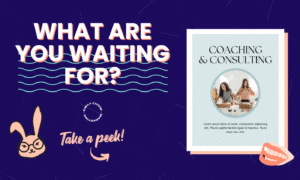 P.S. Have you checked out our other freebies yet? Keep reading!
Target Market Template
This one's an oldie but a goodie.
If you don't know WHO you're targeting, WHAT their deepest pains and frustrations are, and the undeniable RESULTS you provide your ideal client, then really…you've got nothing.
Understanding your ideal customers represents the first step towards converting them into raving customers! Here's what you'll get in the Target Market Template:
A better understanding of what they value.
Insight into the challenges that keep them up at night.
The vocabulary you need to position your solutions in a way they can't say no to.
Get inside to know your target marketing and you're set.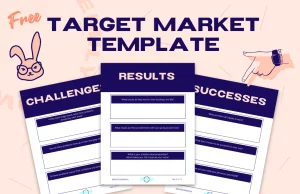 Quick! You're gonna want to grab this Freebie ASAP! Click above to get the goods.
Free Social Media Captions
Do you struggle with not knowing what to write on social media? Do you want to post content that actually get the results you want (*cue* engagement, leads, and sales!)?
Well, of course you do!
You need my 12 best converting, done-for-you caption templates for service and product-based businesses. These captions are:
Easily editable for your own content
Plug-and-play captions you can use right now
No more starting from scratch
I've done all the heavy lifting so all you have to do is plug in your sweet talking points and press publish. So, what are you waiting for?? Let's go, click below and grab 'em!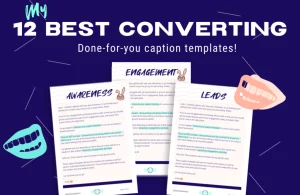 Ahh….Don't you feel better now? These freebies will help you get super clear on your audience, make your feed look gorgeous, and take away the pain of not knowing what to say to get their attention.
Still feel like you need a little extra support? We got you. Shoot me an email and let's have a bigger chat about your brand and business.
Can't wait to hear from you!